A working-class antidote to high-tech Dublin, Cork is filled with interesting bars and a couple sensational veg. restaurants.
A Short History
The legend of Cork pegs its founding to the 6th century when Saint Finbarr (now the patron saint of the city) came to the area to start a church.
Norse Vikings founded a trading post at Cork in the early 10th century. The city charter was granted in 1185 by the King of England. Black Death ripped through the city and killed half the population in 1349.
In 1491, a huckster named Perkin Warbeck tried to recruit support for his false claim to the throne of England. He managed to gain the backing of several prominent citizens including the Mayor of Cork. They went to England to overthrow Henry VII, but the rebellion quickly fell apart and the insurgents were arrested and executed.
This incident earned Cork the name "Rebel City," a title they proudly upheld during the lead up to the Irish War of Independence when nationalists like William O'Brien pushed for removal of the English from Ireland and home rule.
Following an IRA (Irish Republican Army) ambush of a British patrol during the war in December 1920, the British retaliated by bombing and burning down hundreds of buildings in the center of Cork, shooting indiscriminately at civilians, and cutting the hoses of firefighters who were trying to extinguish the blazes.
After the war, the Irish Civil War broke out which resulted in heavy fighting and loss of life in Cork.
Foodie Cork
Cork is situated on the River Lee which leads out to the Celtic Sea. So, seafood is very popular here. But, you can eat well as a vegetarian.
English Market
The English Market has been selling food to Corkonians since 1788. It was called the English Market to distinguish it from the nearby Irish Market (now gone). The covered market itself is stunning with a gabled roof, archways, and stained glass.
Many of the vendors inside have been selling at the English Market for generations. You'll find fruit and veg., but also food producers who make chocolate, cheese, bread, and sweets.
There's also restaurants in the English Market. My favorite, far and away, is My Goodness, a vegan restaurant. More on them below.
One great way to spend the morning is to shop at the English Market for a picnic. Start by picking up some organic sourdough or Irish soda bread at The Alternative Bread Company. Then, maybe some vegan cheese and fruit at The Good Shop. Grab a raw wrap with Kombucha vinaigrette or vegan nachos from My Goodness. Add a couple truffles from The Chocolate Shop and a bottle of wine from Bubble Brothers. Now you've got a picnic!
You can walk a few steps to the Bishop Lucey Park or trek a mile to Fitzgerald's Park to enjoy your haul.
My Goodness
Far and away my favorite spot in the English Market is My Goodness. This amazing vegan restaurant is ironically squeezed between several meat butchers in the back of the market.
Virginia O'Gara, an anarchist and punk rocker from Texas, and her husband Donal, are the duo behind My Goodness. It seems that their team makes everything on the menu from scratch. That includes fermenting the kimchi and kombucha. They also make tasty raw desserts.
But, my favorite might be the vegan Notchos. They top tortilla chips with black beans and tempeh chipotle chili, kimchi pico, vegan sour cream, and the most delicious vegan nacho cheese I've ever tasted. A-Maze-Ing!
Several stores in Cork and Dublin stock some of their products as well.
Quay Co-op
Quay Co-op was founded in 1982 to serve the Cork community, especially underserved groups like LGBTQ and environmentalists. The Co-op has several shops in Cork including a grocery on Sullivan's Quay that has a selection of organic fruit & veg. as well as prepared food from the upstairs restaurant.
Speaking of the restaurant, the Quay Co-op was Cork's first vegetarian restaurant. The space upstairs is quite charming. Get a table by the window if you can and enjoy the view of the river.
Quay Co-op makes their own veggie burgers (not Impossible Burgers) which are very tasty. But, my favorite is the Budda Bowl. It's vegan and has tons and tons of fresh veggies and chic peas. Once, I had the Budda Bowl for both lunch and dinner the same day. Absolutely delicious.
Along with My Goodness, Quay Co-op are my two highest recommended places to eat in Cork!
Drinking in Cork
Cork is a great city to get a pint. Just make sure you decide if you're on Team Murphy's or Team Beamish.
Murphy's or Beamish?
Throughout Ireland people drink Guinness. And, while Guinness is still available and widely drunk in Cork, locals normally opt for either Murphy's or Beamish, both brewed here. Traditionally, Beamish was the choice of Protestants while Murphy's was drunk by Catholics although these days that line has been blurred if not completely wiped away.
My own personal crackpot theory is that the popularity of Murphy's and Beamish is not only because of the quality of the stout, but also because Cork is a city that is very proud and doesn't particularly care for Dublin and its massive influence over all of Ireland. In fact, with no prodding whatsoever, people from Cork gleefully deride their capital city and its inhabitants. After all, they don't call Cork "Rebel City" for nothing.
Beamish
The brewery that later became Beamish and Crawford was established back in 1792 in Cork. Less than 15 years later it was the largest brewer on the Emerald Isle. Beamish held its position as Cork's largest brewer, although Murphy's did cut into their sales in the mid 19th century. Beamish was acquired by Carling-O'Keefe in 1962. Further mergers and acquisitions led to Beamish being taken over by Heineken in 2008. They quickly moved to close the Beamish brewery in Cork and moved operations to the Heineken facility (also in Cork) which was formerly the Murphy's brewery. I'm sure that was a bitter pill for Beamish workers and drinkers to swallow.
Today, Beamish is still available all over Cork and enjoyed by thousands of happy customers.
If you like your stout malty with less "hoppiness," you'll like Beamish. It also has notes of dark chocolate, spice, and coffee.
Murphy's
Murphy's started life in 1856 as Lady's Well Brewery when it was founded by James J. Murphy. The company successfully competed with established stalwart Beamish throughout the second half of the 19th and into the 20th century.
Heineken acquired the beer maker in 1983 and changed the name to Murphy Brewery Ireland Ltd. Today, both Beamish and Murphy's are brewed at the Heineken brewery in Cork.
Murphy's has used advertising to compete against Guinness, calling itself "less bitter" than the Dublin giant. The stout is heavily roasted with coffee and chocolate notes and a very creamy finish. Quite nice.
Best Bars in Cork
Cork is a great city to enjoy a pint or two. Whether it's Beamish or Murphy's or a craft beer, these are my top picks in the Rebel City.
Abbot's Ale House
When entering Abbot's Ale House you're met with a sign telling you to turn off your cell phone. Then, you'll see another sign saying no talk about religion, politics, or football. I bellied up to the bar and ordered my beer and said "I'll have it in a Catholic glass with a side of Sinn Féin chips and put the Liverpool match on the TV." Abbot's owner, Anton, has a great sense of humor and luckily he found my remarks funny which is fortunate for me since he's built like a linebacker for the New England Patriots.
Anton and his staff are hilarious, but be aware that the conversation is often non-PC and judging by some online comments, some folks take offense.
Abbot's has several craft beers on tap and in bottles (including local brews). It might be the largest and most diverse selection in Cork. That, paired with the lively atmosphere of Anton, his employees and customers makes Abbot's Ale House my top pick in Cork.
Sin e
Sine e is a legendary 1889 pub with lots of cool concert posters and photos decorating the interior. There's traditional Irish music here every night. That's the time to come, after the music starts. During the day, Sin e is rather quiet and, dare I say, dull.
Interesting note: Sin e translates from Gaelic to "That's it" in English, a reference to the funeral home next door to the bar.
Mutton Lane Inn
A cozy and shabby little pub right behind the English Market, the Mutton Lane Inn is one of the oldest bars in Cork. Legend has it that during the War of Irish Independence, a line was drawn down the center of the bar. Republicans (Irish Nationalists) sat on one side and Loyalists (sided with the British) sat on the other. Today, the line is long gone and no one can really remember who sat on which side.
Mutton Lane Inn is known for their whiskey selection and they make a fine Irish coffee. Live music keeps things hopping.
Be sure not to miss the mural outside the Mutton Lane Inn. It depicts traditional life in Cork. You might even want to stay outside and drink your pint there. They've outfitted the alley with barrels that double as tables.
Arthur Mayne's
Arthur Mayne's used to be a pharmacy and they still have some old timey ephemera on display. If you've had too much beer on your Irish adventure, Arthur Mayne's might be the spot for you. They have a good wine menu and can help you pair a glass with their selection of sharable plates. The candlelit interior adds to the place's charm.
Franciscan Well Bar & Brewery
What could be more Cork than having a brewery on the site of a 13th century Franciscan Monastery? The original monastery had a well on site whose water supposedly had curative properties. More likely it was the monk's adding hops to the water to kill the bacteria in the local water.
Since 1998, Franciscan Well, or Fran Well as it's known locally, has been making craft beer on the site of the monastery. You can stop in for a pint (and maybe some pizza from Pompeii Pizza) or a cocktail in their outdoor beer garden or opt for a full-blown tour of the brewery (including tastings).
Franciscan Well Bar & Brewery has several beers to choose from. Personally, I like their stout (we are in Ireland, after all), but the Rebel Red is also quite popular.
Rising Sons Brewery
Probably the most popular craft brewery in Cork, Rising Sons Brewery has a taproom on site in the city. Try a flight of their offerings (the stout was my personal favorite).
Rising Sons is also available at many of the top pubs in Cork. I was told that's because the owner of Rising Sons bought up several of the best known pubs in Cork and, of course, they serve their own beer there. I don't know if that's true, but it didn't change my opinion of the quality of their beer.
The Poor Relation
The Poor Relation is a classic dive bar in Cork. What I like best about this place is the tiny rooms (called "snugs") all over the pub. They're just big enough for a single table or booth. A great spot to get cozy with your date or plot the overthrow of the British in 1916 (just kidding). The Poor Relation has live music several nights each week. A real locals' spot.
Things to do in Cork
Cork is a great city to wander. Maybe it's the winding River Lee that encourages this. I like to walk along the water, stop and take a picture of a bridge, check out a coffee shop or pub like The Poor Relation. Then, perhaps, stroll down Oliver Plunkett Street over to the English Market to pick up provisions for a picnic. That, to me, is a great way to spend an afternoon in Cork.
Sure, the city isn't as visually stunning as the Irish countryside or as tourist-friendly as Dublin, but it's that gritty working-class and rebel devil-may-care ethos that makes it interesting.
Churches
Religion in inextricably tied to life in Ireland, even if fewer and fewer people are religious today. The church was such a central part of Irish society, dictating everything, including political decisions and laws (even if the church itself decided it didn't have to follow these rules) that it's impossible to underestimate its influence.
When visiting Cork, there's a few churches you shouldn't miss, even if you're not a member of the flock, if only for their impressive architecture or beautiful surroundings.
Saint Fin Barre's Cathedral
Saint Fin Barre's Cathedral is, by far, the most imposing structure in Cork. Gothic revival in design, the church was only completed in the late 19th century. The history of the site, where a church has stood for centuries, dates back much further than that.
Fin Barre of Cork, now the patron saint of the city, was born Templemartin in Country Cork in 550 CE. Supposedly, he visited Cork to lay foundations for a church. Archaeologists believe that the original Fin Barre church probably dates from the 7th century. Multiple other churches were built on the site before the one that stands today was consecrated in 1870.
The facade of Saint Fin Barre's Cathedral is quite interesting, Gargoyles dot the exterior along with several interesting sculptures. For a few Euros, you can visit in the stunning interior which features stained glass that adds color to the gray limestone building.
The grounds, while not expansive, are worth checking out. The church's cemetery has several notable church leaders and important local people buried there. The wear on the gray limestone, making the inscriptions difficult to decipher, adds to the weight of the place.
There's also a small labyrinth which has been designed for contemplation.
Shandon Tower
There's been a church near in this part of Cork for over 800 years. But it wasn't until 1722 that the Church of St. Anne was built in the Shandon neighborhood of the city.
The most interesting part of the church and its grounds is the bell tower. The tall tower houses 8 bells, which were first rung in 1752. The bells were recast in 1865 and again in 1906. For a few euros you can enter to tower (entry to the church itself is free) and climb to the top for the best view of Cork. You can also ring the bells if you like!
Each side of the tower has a clock mounted near the top of the structure. Because of wind and the angle of observation by the viewer, each clock displays a different time leading to the nickname "The Four-Faced Liar." The clocks must've felt especially duplicitous the day I took this picture because two of them display a nearly 90 minute difference.
Saint Peter and Paul's Church
Saint Peter and Paul's Church is another Gothic Revival church building in the mid 1800's. The stained glass is nice and the church is right around the corner from the Huguenot Cemetery.
Huguenot Cemetery
The Huguenots were a branch of the Calvinist Protestants in France. Once numbering over one million adherents, the Huguenots were persecuted by the Catholics in charge of France and their numbers soon dwindled to under 100,000. The Huguenot diaspora found a foothold in the Netherlands, Germany, England, Ireland, Wales, South Africa, and the New World, especially Charleston, SC.
Around 1600, about 5,000 Huguenots fled to Ireland from France. Several hundred to these people settled in Cork. The Huguenots quickly integrated into Cork society, building a church (with a cemetery), school, and housing for the poor. Over the years, several Huguenots rose to the position of Mayor and Sheriff of Cork. Others became prominent in the fields of textiles and metal smithing.
Over the years, the Huguenot church membership shrank until the building was eventually destroyed. The cemetery next to the church fell into disrepair and, sadly, garbage was dumped on the site.
In the early 21st century a group, The Friends of the Huguenot Cemetery, organized to try and preserve the graveyard from development. In 2006, the Cork City Council purchased the property and saved it. It has since been cleaned up and is available to look at, albeit from behind a locked gate.
Red Abbey Tower
Once, there was Augustinian order in Cork. They built a monastery in the late 1200's or early 1300's and lived and worked there for 250-300 years. Later, it was used as a sort of military outpost during the Siege of Cork in 1690. Then, it became a sugar refinery and was mostly destroyed by a fire in 1799.
The church's bell tower, called The Red Abbey Tower, is all that remains of the original structure and is one of the last Medieval structures still standing in Cork.
You can't climb the tower or even go inside. It's on a quiet square a couple of blocks from the river and is a nice spot to sit and relax.
Fitzgerald's Park
Fitzgerald's Park is a 12 acre green space with a fountain, the Cork Public Museum, and gardens. It's near the university and it's a short walk from the center of town.
There's benches in the park and it's a great place for a picnic.
Day Trips
Blarney Castle
By far the most popular day trip from Cork is to Blarney Castle. The 600 year old castle and gardens are just a few minutes from Cork. Most people come here to visit the famous Blarney Stone and give it a kiss to obtain the gift of gab. Be careful though, even if you have purchased an advance ticket, there are no limits to the number of people allowed on site and it can get quite crowded.
Foodies should be on the lookout for Blarney Cheese, a semi-soft cheese that has been compared favorably to Gouda. It's available in the town of Blarney and all over Ireland.
Cobh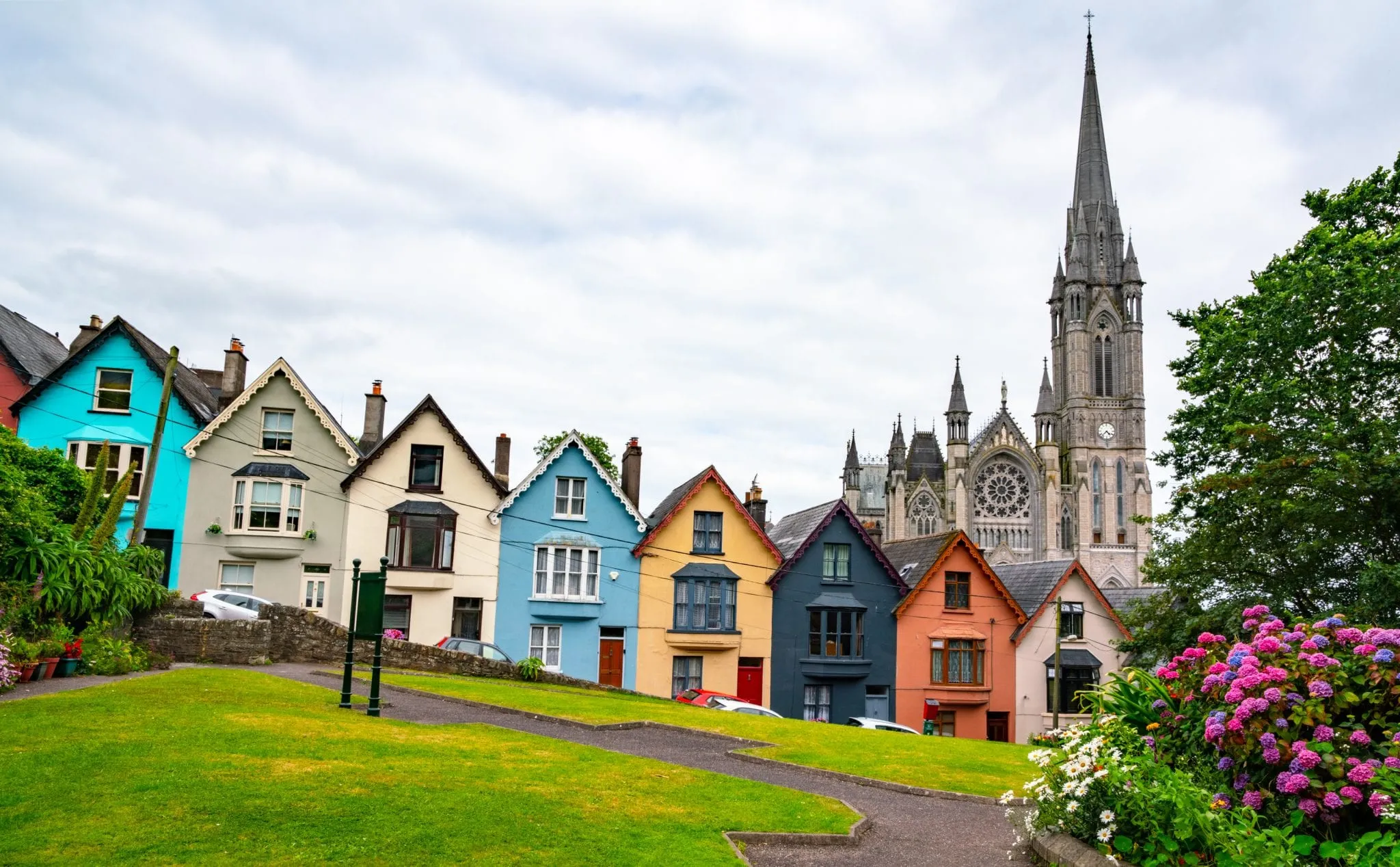 Cobh is a seaside town about a half hour from Cork by car or train. The town's claim to fame is it was the last port of call for the doomed maiden voyage of the Titanic in 1912. The Titanic Experience museum is a good way to learn more.
Cobh was also the place where many Irish left the country to immigrate to new homes. If your family has Irish ancestry, there's a good chance they boarded a boat in Cobh to try and find a better life. The Cobh Heritage Center does a fine job of telling the story of Irish Emigration.
St. Coleman's Cathedral looks like a centuries-old Gothic church, but it is in fact a Gothic Revival church only completed in 1919. It's worth a visit to see the spectacular interior.
The most famous image of Cobh is likely the "Deck of Cards," a row of pastel colored houses on a hill. Take a photo in the nearby park West View Park to get both the houses and St. Coleman's in the frame.
Dublin
Dublin is certainly worth much more time than a single day. However, if you're pressed for time and only have one day for Dublin, you could make the nearly 3 hour trek each way in a day. We've compiled a complete Foodie Travel Guide to Dublin for your convenience.
Transportation
Lots of flights to European cities, but no direct flights to the U.S. Dublin Airport and Shannon Airport have direct flights to the States.
Ground Transportation
Cork Airport is a short drive from the city center. Taxis are readily available; there is no Uber in Ireland. Bus service is simple to use from the airport. Buses are right outside the terminal.
Ride Sharing
Currently, there is no Uber or Bolt in Ireland. Free Now is an app that gets you a taxi ride. Or, you can hail a taxi yourself.
Bike Sharing
TFI Bikes has dozens of bike racks around Cork. Rentals are inexpensive but you need to buy a subscription plan. The 3 day pass is best for visitors.
Public Transportation
Cork is covered by a good network of buses. For longer distance journeys, the Kent train station in Cork has links to destinations all over Ireland.
Index of things to do in Cork
Saturday food tour. Vegetarian friendly. Booking in advance essential.
Gothic revival church with lovely grounds.
Bishop St, The Lough, Cork, Ireland
Tower is at St. Anne's church. Climb the tower or ring the bells.
Church St, Shandon, Cork, Ireland
Fitzgerald's Park
Nice place for a picnic near the University
Lovely campus. Look for the Stone Corridor filled with Ogham Stones, ancient grave stones from 2nd – 7th century CE.
College Rd, University College, Cork, Ireland
Church with an impressive interior and stained glass.
Jail that is now a museum once held Irish nationalists arrested after the 1916 Easter Rising.
Convent Ave, Sunday's Well, Cork, Ireland
Red Abbey Tower
The tower is all that remains of the 14th century abbey.
Everyman Theatre
Top music venue in Cork.
15 MacCurtain Street, Victorian Quarter, Cork, T23 E094, Ireland
Huguenot Cemetery
One of only two Huguenot cemeteries in Europe for the religious sect that was often persecuted and found a home in Ireland.
Carey's Ln, Centre, Cork, Ireland
Oliver Plunkett Street
Colorful pedestrian street filled with shopping, restaurants and street performers.
Oliver Plunkett Street, Cork, Ireland
Walk the ramparts of the fort that later was used as a prison, food bank, and police station.
Barrack St, The Lough, Cork, T12 C8A0, Ireland
Father Mathew statue
It's more than a little ironic that a temperance proponent has a statue to honor him in Cork
St Patrick's St, Centre, Cork, Ireland
Famous castle where you can kiss the Blarney Stone is a short ride from Cork.
Monacnapa, Blarney, Co. Cork, Ireland
Cobh
Museum dedicated to the doomed ship whose last port of call was Cobh.
20 Casement Square, Kilgarvan, Cobh, Co. Cork, P24 DW63, Ireland
Tells the story of Irish emigration.
Deepwater Quay, Cobh, Co. Cork, P24 CY67, Ireland
Stunning church, looks old but completed in 1879.
5 Cathedral Pl, Kilgarvan, Cobh, Co. Cork, Ireland
Deck of Cards
Row of pastel colored houses makes for a great picture, especially with the cathedral in the background.
1-23 West View, Kilgarvan, Cobh, Co. Cork, P24 H598, Ireland
Index of places to eat & drink in Cork
Incredible vegan food in the English Market. Notchos are life-changing.
Unit 2 English Market, Princes St, Cork, T12 W9XP, Ireland
Employee-owned vegetarian restaurant. Vegan slaw is the best.
24 Sullivan's Quay, Cork, T12 X867, Ireland
Sustainable Italian-influenced vegetarian restaurant.
9 Castle St, Centre, Cork, T12 AD9E, Ireland
Italian restaurant with tons of vegan options.
7 – 8 E Douglas St, Douglas, Cork, Ireland
Terrific pub with a worldwide craft beer selection. Owner and staff are highly entertaining.
17 Devonshire St, Victorian Quarter, Cork, T23 X799, Ireland
Legendary 1889 pub with lots of cool concert posters and photos.
8 Coburg St, Victorian Quarter, Cork, T23 KF5N, Ireland
Pub next to the English Market. Atmosphere to burn.
3 St Patrick's St, Mutton Ln, Centre, Cork, T12 RV07, Ireland
Former pharmacy, now a charming bar and restaurant.
7 Pembroke St, Centre, Cork, T12 VR62, Ireland
Craft brewery on the site of a 13th century Franciscan Monastery.
14 N Mall, Sunday's Well, Cork, T23 P264, Ireland
Craft brewery also has some pub food. Their beer is available at several pubs in Cork as well.
Cornmarket St, Centre, Cork, T12 WK27, Ireland
Pub with a classic run-down interior. Live music some evenings.
19 Parnell Pl, Centre, Cork, Ireland
Characteristic bar.
25 S Main St, Centre, Cork, T12 Y15D, Ireland
Gastropub with a handful of veg. items and Franciscan Well craft beers on tap.
32 MacCurtain Street, Victorian Quarter, Cork, T23 Y07X, Ireland
Local bean roasters with 3 coffee shops in Cork.
2 Bridge St, Victorian Quarter, Cork, Ireland
Coffee shop with several sweet and savory vegan options. Also, has plant based milk. Five area locations.
1 N Main St, Centre, Cork, T12 HX58, Ireland
Index of shopping in Cork
English Market
Iconic covered market with food stalls and produce vendors.
Princes St, Centre, Cork, Ireland
Workers' co-op grocery with healthy and sustainable items including some of the prepared dishes served at the restaurant next door.
24 Sullivan's Quay, Cork, T12 X867, Ireland
Index of places to stay in Cork
Full service hotel with free car park.
Lancaster Quay, Western Rd, The Lough, Cork, T12 EF10, Ireland
Achill House
Cozy hotel near the university.
Western Rd, Mardyke, Cork, Ireland
About the Author
Brent Petersen is the Editor-in-Chief of Destination Eat Drink. He currently resides in Setubal, Portugal. Brent has written the novel "Truffle Hunt" (Eckhartz Press) and the short story collection "That Bird." He's also written dozens of foodie travel guides to cities around the world on Destination Eat Drink, including in-depth eating and drinking guides to Galway and Cork. Brent's podcast, also called Destination Eat Drink, is available on all major podcasting platforms and is distributed by the Radio Misfits Podcast Network.